The following resources were developed in partnership with the Ontario Ministry of Education and the Ontario Principal's Council (OPC).
Knowledge Building Trailer
This trailer was created as a short, accessible introduction to Knowledge Building pedagogy and technology. It is great for sharing with folks new to KB, for use in professional development workshops, or in the classroom to help get students acquainted with the big ideas about Knowledge Building!
Knowledge Building Gallery
The Knowledge Building Gallery is a collection of teacher strategies, classroom examples, and pedagogical tools to support the implementation of Knowledge Building in the classroom in a principles-based way. It features examples and case studies of practice from across K-12, an assessment library with teacher-created tools and techniques, an overview of pedagogical principles, and a introduction to using Knowledge Forum technology to support Knowledge Building.
Knowledge Building in Action – A Collection of Case Studies
This is a companion handbook to the Knowledge Building Gallery, and includes short, teacher-composed case studies of classroom practice across K-12 in a variety of subject areas including science, math, social studies, and more.
Innovations in Thinking and Learning: Knowledge Building Pedagogy and Technology
This video series features in-depth interviews with Dr. Marlene Scardamalia, as well as classroom case studies, teacher reflections, and student interviews. Explore the whole collection via the links below.
See more videos from this series here: https://vimeo.com/showcase/8751522?page=2&page=3&page=4&page=3&page=2&page=1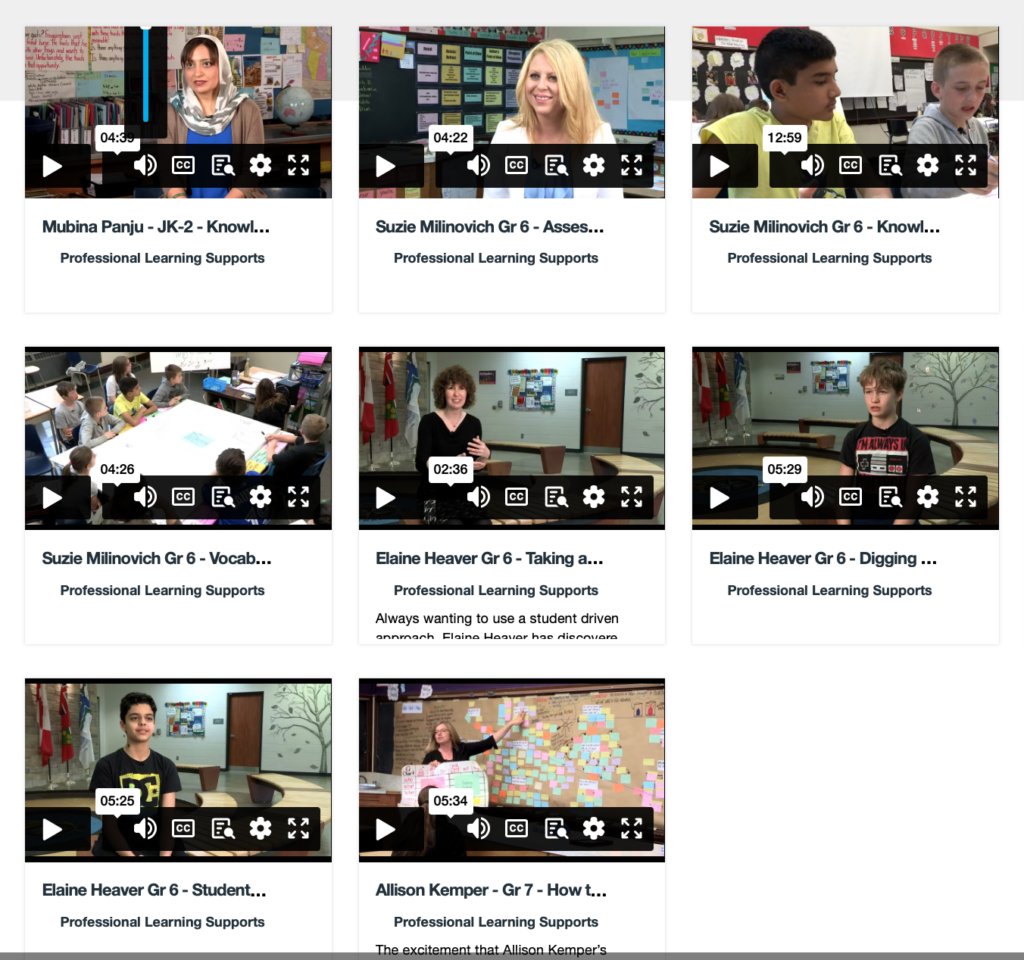 Knowledge Building (KB) Circles.
Check out these great examples of "KB Circles" in action.
Gr. 4 Knowledge Building Circle
Gr. 1 – Knowledge Building Discussion (Natural Curiousity)
Gr. Gr. 4 – Jason Frenza KB Circle
Early Years Case Study – Improveable Ideas in the Classroom
In this short vide case study, kindergarten teacher Carole Stephenson describes what Knowledge Building looks like in her class, through the example of the creation of class "air ships" to explore wind, flight, and movement.
Knowledge Forum
The following is the first in a varied collection of videos showing student use of Knowledge Forum, the technology that supports Knowledge Building processes. Check out the link below to see more videos from this collection.
See more videos featuring student use of Knowledge Forum here: https://vimeo.com/search?q=%22knowledge%20forum%22
Suzie Milinovich: Knowledge Building and Mathematics
In this video series, elementary school educator Suzie Milinovich talks about how she built a Knowledge Building community to help her students love math!
See more of Suzie's videos here: https://vimeo.com/search?q=suzie%20milinovich
Knowledge Building Teacher Interviews – Richard Messina
As a long time Knowledge Building student, educator, and school administrator, Richard Messina offers his reflections on what makes KB different, and discusses strategies for engaging in principles-based practice..
See more videos in this series: https://vimeo.com/search?q=KB%20-%20Richard%20Messina